Within a few months, they were contacted by acclaimed clothing designer Giorgio di Sant'Angelo to create a collection for his Fall 1971 couture show called "Jane and Cinderella." The buzz created by the show energized the artists and Alex & Lee began to evolve their work by incorporating more complex themes and techniques and their inspirations became more global including Asian, Egyptian and tribal design. Intriguing new materials were introduced into their work such as painted scarabs, elaborate feather fans, surreal collage imagery, hand hammered metal medallions, woven patinated wire, and hand dyed cord and fringe. With this elevated craftsmanship, the captivating and visionary jewelry of the Alex & Lee brand was born.

It was the early 1970s and the artists were then drawn west to San Francisco where they established their place in the Art to Wear movement championed by their friend Sandra Sakata and her legendary store Obiko. The line was soon admired by many tastemakers such as Erte', Grace Slick, Cher, Elton John, Joan Baez and Vincent Price.

In 1974, the avant garde clothing designer Kaisik Wong delivered a necklace to the artist Salvador Dali, which prompted an invitation and art commission for the opening of the Dali Theatre-Museum in Figueres, Spain. Alex & Lee created a spectacular display of their work which prompted Dali's reaction, "I have never seen such imagination." Eight pieces remain on permanent display at the Museum as does the piece that Dali famously wore until his death---which is displayed at the entrance of his home in Caracez where he died.

Before Alex & Lee returned to California, they experienced the bounty of Europe for two years with Dali and his wife Gala, Claude Artaud, Liza Minnelli, Omar Sharif and the Father of Fantastic Realism, Ernst Fuchs. Upon their return, they created a major collection in Egyptian style inspired by the King Tut exhibit that had Danielle Steele, Ann Getty, Dodie Rosecrans, Lanie Maine and the elite of San Francisco high society clamoring for more.

Momentum had built, and the fashion mecca of New York was calling them back to where it all began. This was the time that they met Geoffrey Beene and produced accessories for both his 1980 and 1981 collections. Oscar de la Renta pursued them next and Alex & Lee accessorized his designs to great acclaim. Their collaborations led to both a 1981 COTY award as well as the inaugural CFDA award in the same year. Alex & Lee were on top of the world with style icons Grace Mirabella, Polly Mellen, Raquel Welch and Babe Paley plus the editors from all of the major magazines begging for more.

They continued to sell their designs in all the best stores including Bergdorf Goodman and Saks Fifth Avenue until the early 1990's when Alex passed away. At this juncture Lee stopped creating until cosmic wonder intervened once again and brought him a new partner in life and art, Greg Franke. This new partnership kept the spirit of Alex & Lee intact by pairing Greg's talent in weaving and dye pigmentation with Lee's passion for balanced asymmetrical assemblage.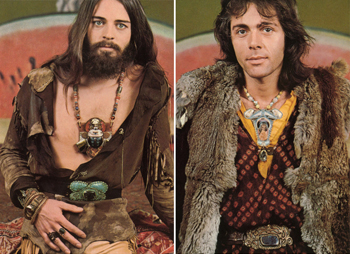 Alex and Lee featured in "Native Funk and Flash", Chronicle Books, 1974.

The Alex & Lee brand has been fully revived with Greg's influence and continues to evolve as one of one of the most influential American heritage accessory brands of the past 40 years. Every Alex & Lee piece is handmade by the artisans themselves with creativity and a consciousness that is beyond your wildest dreams. By collecting fossils, gemstones, mineral specimens, and various organic and antique elements from all over the world, they create unique one of a kind creations. The intricate hand dyed cord knotting known as French passementerie is their unmistakable trademark in conjunction with their play of color and texture. Every piece is created in the spirit of objet trouve' and all are assembled unbound by metal---suggesting entirely organic and natural origins to their design sensibility.

In the past few years, with the influence of Folk Art and 1970's bohemianism in fashion and culture, the artists' work has witnessed a resurgence of the brand. In 2011 they were approached by designers Jack McCollough and Lazaro Hernandez of Proenza Schouler to design the accessories for their Resort 2012 collection which again placed Alex & Lee's custom product in the very best stores around the globe.

The Alex & Lee collection currently consists of necklaces, bracelets, belts as well as scarves created with Lee's Rorschach-like collages from the 1970s. Although the pieces are all unisex, Alex & Lee will debut a line of men's specific accessories in 2012 and are already in talks with another prestigious designer on an exclusive collaboration for Spring 2013. In the next few years, the world of Alex & Lee will expand into interiors, housewares and apparel---and a coffee table book is also on the horizon.

The legacy of Alex & Lee embraces artistic expression and craftsmanship---the antithesis of banality and homogeneity. The essence of the brand is imagination and creativity and its relevance exists outside the realm of trend and season. Each piece embodies this spirit and exists as a talisman beyond the constraints of time.